Quite frankly, I wanted to ignore this. But since the rumors are still swirling and seem to be gathering steam, I feel it's my duty to tell you that it looks like Cameron Diaz and Adam Levine (Maroon 5) might be dating.

Whyyyyyyyyyy???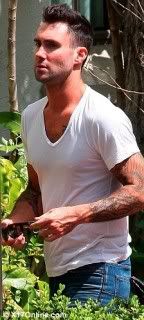 The Chicago Sun Times is reporting that Diaz dumped model Paul Sculfor when she learned that Levine was available -- a guy she's had a secret crush on for a long time.

WHAT?!?!

And, according to the Sun Times, Diaz has already has introduced Levine to her mother, Billie Early Diaz, who gave Cameron a big thumb's up after brunching with Levine on Sunday at Hollywood's famed Chateau Marmont.

Cam's ex Sculfor is reportedly devastated over the split. He's telling friends he can't believe that Cameron let him go, thinking everything was "terrific" between them.

Oh, and for the record - this is the second time Cam has gotten JESSICA SIMPSON's sloppy seconds (first was John Mayer).