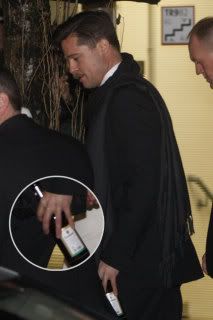 According to the seedier gossips out there, things with the Jolie-Pitt's is GRIM! Not only have they been breaking up, but there are questions about the paternity and even maternity of twins Vivienne & Knox! Now these same sources are saying that Brad Pitt is in rehab.

According to a close friend of the 45-year-old A-lister, Pitt is trying to get himself free of alcohol dependency as a way to pry himself loose from Angelina Jolie. The friend said Jolie has been determined the past couple of years of throwing Pitt's life into complete confusion. "Brad's been very stressed out for months," says the source.

Things have not been going very well for him. He needs a change and a fresh start. If he didn't seek the counselling he might have died, that's how bad it's been." The friend said the program Pitt enrolled in is teaching him about harm reduction, prevention and how to lead a life free from alcohol abuse. "He's doing well above the required threshold for recovery," the friend added. "He'll be fine. He's a great person and great father. He's turned to his family and an old friend for support. Finally, he got a big wake up call that was long overdue."

Brad has talked about his drinking and how it affects him. Back in October of 2007 he said, He said: "It's not easy to be a good father when you've had a few drinks.

"About a year ago I'd had a couple of beers and my daughter Zahara had this piece of ice that had been dropped on the floor, and she was putting it in her mouth and began to choke on it, and that was it.

"You have to be absolutely on top of every situation. The other s**t doesn't work anymore. When they wake up in the middle of the night you have to be there.

"And you can't deal with children when you have a hangover - that's just a misery!"

What do you think? Is Brad in rehab battling his demons (aka Angie)? Personally, I don't buy it. But....ya never know.....