Did you see Leighton Meester at The Costume Institute Gala at the Met this week? I thought she looked GREAT. A little avante garde for sure, but that's what the Costume Gala is all about!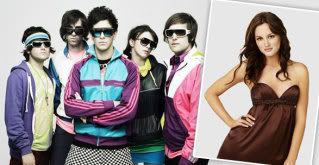 It's been a good week for Leighton because in addition to her good showing at The costume Gala, Ryan Seacrest world premiered Cobra Starship's highly anticipated new single "Good Girls Go Bad" on his radio show Friday. The song features Meester and was co-written by American Idol judge Kara DioGuardi.

Click here to hear it!

I like it and I think she sounds good. Totally sounds like a summer song!