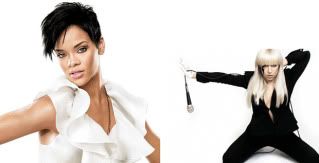 Have you heard the Rihanna song that was leaked on the internet? It's a song called "Silly Boy" and it also features Lady GaGa. It has been getting alot of mention on gossip sites, but it was already on YouTube a month ago. Regardless, there's lots of speculation that the song is about Chris Brown. It's a very "girl power" song. Totally what she needed.

Poor Rihanna had just stepped back into the public eye attending several functions last week, including her great showing at The Costume Gala last Monday, then she ended the week with nude photos being released. She's said to be "freaking out" over them. I won't even go into the tired rant about "whyyyyy do people keep taking naked pics of themselves on their cell phones" and just say - I don't think they're that bad. In fact, I think she looks really hot in them! I mean, I can understand what she's embarrassed - but Rihanna is the "Good Girl Gone Bad." As such, I don't think the pics will affect her career-wise.

She's in Hawaii to escape the scrutiny.

"She's recording her new album and wants to shut herself in the studio away from the world for a few days."

Rihanna's record label Island Def Jam demanded that the photos be removed because they "violate the artist's rights". But her lawyers have not denied that the photos are genuine.