I know alot of moms read my blog and I wanted to wish you a Happy Mother's Day! Now that I'm a mom, I love this holiday. My older son,Jake, had a big shindig at his preschool to celebrate Mother's Day. Check out this portrait he painted of me. I TOTALLY dig the necklace and earrings!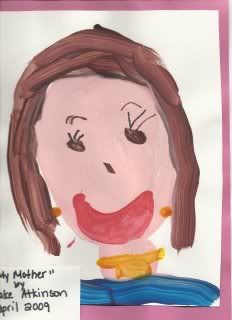 Jake's teacher had each of the kids answer these questions. Jake said that I was 49 years old. WHAT?!?! I've even been practicing with him on saying 34!


He thinks I look best when I wear my clothes and cook?! He knows I don't cook. LOL

Happy Mother's Day to MY mom. She's my best friend and I love her.



xoxo
Nikki