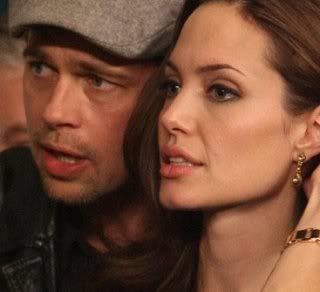 The same sources that are snitching that there's trouble for the Jolie-Pitts are saying that there's quite a battle going on over whether or not Angelina will support Brad in Cannes.

"Angelina does not want to go," a source in Pitt's camp told IUC. "Brad told her if she does not go to Cannes it will cause him huge problems and will outshine the promo for his new Tarantino film. He threatened to do everything in his power to ruin her if she does not cooperate."

My guess is that she'll be there. If she's NOT, well, I think we've got our answer to whether or not there is trouble in paradise.

Meanwhile, a source on the set of "Salt," which Jolie is filming now reportedly heard Angelina talking with a friend. She said, "I'm a total mess. I'm lonely and fucked up. I miss Jonny and Billy Bob. They're my closest friends. I feel like there's no one I can trust except them. Everyone here is out to get me."

Why does it always go back to the exes? Brad back with Jennifer, Angie pining for Jonny Lee Miller and Billy Bob. For me this is when the stories start to smell fishy.

For now we're just going to have to wait and see how Cannes shapes up!