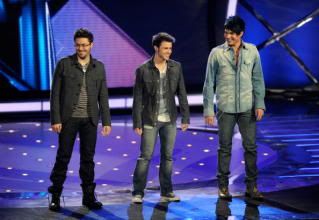 Danny - I don't mind Paula's song choice for Danny, but he's really butchering it. It also showcases his embarrassing dance moves. Randy thinks it's dope, Kara is right on about the dancing and the forgetability factor, who cares what Paula thinks and drumroll to Simon - he's kind of wishy washy on it.

Kris - Love that he's playing the piano. I worry that the song is too recently popular for him be original with it. But it's ok.

Adam - the first few notes were better than either of the songs we just heard. I think the arragement is just so-so, but he's so good it doesn't really matter.

Danny - Ugh. I'm just so ready for him to go. Is he going to sing this, get teary-eyed and get the sympathy votes? I think this is a boring song choice for a guy I've become really bored with. That said, it was much better than the first song and probably one of his best performances.

Kris - Wow! What a great song choice!! Love this song and I'm so excited to see how he does. Wow - he's doing a really good job, I think. He could have a hit record with this!

Adam - I absolutely hate it! I'm getting a little sick of the screaming. Love Adam but could have done with a little less screetch.

I am PRAYING Danny goes home this week and we have a Kris vs. Adam final!