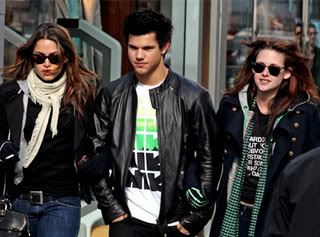 Twilight maniacs are getting a fix now that the cast has reassembled in Vancouver to begin filming New Moon.

It sounds like the cast really gets along. When asked about breakout star Robert Pattinson, Nikki Reed (Rosalie) joked, "Quite frankly, I'm tired of being asked about Rob."

"He's really talented, he's really smart, he's really musical, he's an intellectual, he reads," she added. "That's the side that I wish people would [ask about.] I don't know if anyone necessarily even knows him…that side of him."

Regarding Taylor Lautner, who must be thrilled to be back as Jacob after alot of speculation over a possible recast, Reed said, "Taylor's my fave!"

Co-star Rachelle Lefevre (Victoria) kids, "I already adopted him, back off! He's such a man. He was so grounded, he had so much grace."

Don't forget - for those of you who didn't get a chance to see Twilight in theaters, it comes out on DVD on the 21st!