Kanye West's Glow in the Dark Tour came to Chicago this weekend! We had tickets for Friday night's show and ya'll - it was hands down the best show I've ever been to.

We got to our seats at 7:30pm and Lupe Fiasco was almost done with his set. However, we saw his last 3 songs and I LOVED him. First of all, did you know how handsome he is? Well, he is!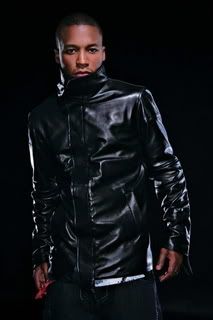 And talk about energy! Everyone onstage with him gave their all (a consistent among every performer that night). I'm definitely going to spend some time downloading his music this week.

After about a 15-20 min break next up was N.E.R.D. You guys know how much I love Pharrell, right? I don't need to go into how hot I think he is? Their set was HIGH energy. When they performed "Spaz" they had about 20 people onstage dancing with them and then all of the sudden who do we spot onstage with everyone but Chris Brown. He danced his ass off. VERY cool.

After a similar set break, next up was Rihanna. I feel like I need to preface with this: you all know I LOVE Rihanna. She looked beautiful and her set was FAR from "bad." But in comparison to the first 2 acts, she was the weakest in my opinion. I talked to my husband about it quite a bit - trying to figure out "why." I came up with this - Rihanna is an artist who does well with a big number - big stage, lots of dancers, etc. She had a lot smaller stage to work with and not as much room to really do her thing. However, I think it was still absolutely the right call for her to do this tour and I'm sure she'll grow ALOT as a performer as a result. Do I need to say again how beautiful she looked? How amazing her body is? How cool her costume change was? God, I feel like Paula Abdul.

I should mention how electric the mood was at the United Center. When we took our seats at 7:30 (a half hour after the show was supposed to start) and it was PACKED. How often does that happen? I've been to shows there where until the headling artist took the stage it was deserted. Not this show. The arena was packed and everyone - and I mean EVERYONE - was participating. I saw all walks of life - young, older, black, white, brown, yellow and everything in between, women, men, families...the crowd was such a big part of the show. The atmosphere was one of a big party - everyone was smiling, excited and having FUN. I danced for 4 and a half hours straight, only standing still (but never sitting) when Kanye performed "Hey Mama." So, onto Kanye...


He went on at 10pm and played straight for 90 minutes. Kanye performed every single song as if it were an encore. He gave his ALL.

From "College Drop-out" he did: All Falls Down and Jesus Walks.

From "Late Registration" he did: Touch the Sky, Gold Digger, Diamonds from Sierra Leone, and Hey Mama.

From "Graduation" he did: Good Morning, Stronger, Good Life, Can't Tell Me Nothin, Champion, Flashing Lights and Everything I Am.

PLEASE forgive me if I'm missing something or put something in that mix that he didn't do.

When I've gone to other shows, when it's over I can pinpoint favorite songs played. Not this show. EVERY song was my favorite. It was remnisicent of a rock opera a'la The Who's "Tommy." Kanye even had a live band play with him - something uncommon at a hip hop show. A highlight of the evening was when Kanye took his only "break" of the evening - sitting down while Journey's "Don't Stop Believing" played. EVERYONE in the crowd sang along as Kanye sat down onstage and had a drink. Not sure if that song was chosen as a homage to the White Sox (it was their theme song the year they won the World Series) or if it just fit in with the storyline behind the show.

Yes, there was a storyline. I'll let Hollywood Wire.com explain the storyline:
Kanye is sent on a mission to space to bring creativity back to Earth. He's been gone for over a year. All of the crew on his ship are dead, leaving Jane, the on-board computer system, as Kanye's only companion.

His ship crashes on an unknown planet. As Kanye begins to explore the unfamiliar surroundings, he is greeted by a female alien. Um, do alien's have sexes? Anyway…

Kanye asks, "Do you know who I am?"

"Of course we know who you are. You are the biggest star in the Universe!," replies the femalien.

Wow, biggest star in the Universe? Must be difficult for you to play this part, huh Kanye?

The Glow in the Dark tour follows a tough emotional journey of the singer. Kanye's mother and main inspiration, Donda West, passed away late last year. A tragedy that would have paralyzed many, provided Kanye the inspiration he needed to produce, arguably, the best work of his career.

This is the first show I've ever been to that I was thinking about for days afterward. Whether you're a Kanye fan or not, if you have the opportunity to see this show - SEE IT. It probably won't change your life like it did Diddy, but it'll certainly go down as a highlight of my life.